Overview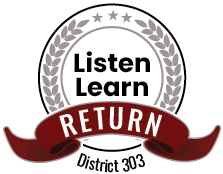 It is important that District 303, led by new Superintendent Dr. Paul Gordon, is routinely connecting with staff, students, parents and community members. Listen Learn Return provides opportunities to share feedback that informs District decision making and strengthens community relations. We aim to establish a foundation of trust, access, and accountability to the colleagues, students, families, and community members we serve.

Electronic Surveys: Oct. 24-31 | Oct. 31-Nov. 7 | Nov. 7-14
Thank you to those who attended our in-person Listen Learn Return sessions. Our electronic survey aims to grow feedback among District residents, parents, staff and students. It is also important that the electronic survey closely aligned with our in-person methods, which encouraged honest feedback in a safe setting. That is why we'll be using a platform called ThoughtExchange to gather your feedback electronically.

What is ThoughtExchange?
ThoughtExchange is an anonymous survey tool that offers two-way engagement on important topics. It works in three steps:
You're asked to share your thoughts on a single question
You're asked to rate the thoughts of others
You're be able to discover the full conversation and ratings
The process is confidential, so identities will not be known or associated with the thoughts of others or their ratings. Watch how the process works in the video below and learn more in our ThoughtExchange FAQ section.
Why are we using ThoughtExchange?
The ThoughtExchange platform closely aligns with the method used during our in-person Listen Learn Return sessions, which provided a safe setting that encouraged honest feedback in order to hear the perspectives of others. It also helps us broaden our reach so that more people have the opportunity to share feedback. These electronic surveys, or exchanges, will continue our same questions about the District's challenges, opportunities for growth and points of pride.
How can I access the current survey/view past survey results?

Each survey, or exchange, will be open for one week before. The links will be shared the morning of the exchange start date on this website, in parent and student emails and on the District's social media channels. Below you can access either the link to the current survey or results of the completed survey:
The completed survey links show summary data, including topics addressed, all thoughts and your own activity, if you participated. A comprehensive report will be shared later, and along with the data compiled from our in-person sessions, be used to develop action steps that will be shared during our return sessions in 2023.
ThoughtExchange Frequently Asked Questions
Why is my thought not displaying?
Prior to sharing a thought, participants are informed that the exchange will be moderated and some thoughts may be removed if deemed rude, hurtful or identifying.
In some cases, thoughts that include personal concerns may not display because they are identifying. We want to remind people that individuals can inform the District of personal concerns using the following processes:
Additionally, thoughts that don't answer the question may be removed. For example, thoughts in the "proud" survey that actually are challenges or concerns. While the feedback is important to share, it is not the appropriate location. If you were unable to share thoughts in the appropriate survey, please utilize the contact methods above so that we can properly address your concern.

Why are false or misleading thoughts allowed to be displayed?
We recognize participants may find some thoughts to be false or misleading. We want to give everyone in District 303 a chance to share their feedback and learn the perspectives of others, as we did during the in-person listening sessions. Rather than remove possibly false thoughts from public view, participants can learn what those perspectives are, and through our ratings system determine if that thought resonates with them or not. Furthermore, from the exchange data the District can identify the scope of thoughts that may be false or misleading, which will help guide future action steps that provide clarity on the topics.
Can I skip rating a thought if I don't know about the topic?
We understand that some thoughts may not be relevant to a participant. If you would like to skip a thought, you can do so by selecting the three dots menu at the top right corner of the thought.
Why can't I choose which thoughts to rate?
When you get to the rating stage of the exchange, one by one the ThoughtExchange algorithm will provide you with a thought to rate, rather than have you choose yourself. This is done to ensure each thought has an equal chance of being rated. In fact, you'll notice when reviewing all thoughts that each tend to average around the same number of ratings. If participants could choose which thoughts to rate, it may bias the ratings in favor of the thoughts that have already been rated highly. We want to make sure that newer thoughts are also available for people to rate.
Keep in mind, you can rate as many thoughts as you want, so you can go back to the ratings stage and perhaps a thought you do want to rate will be made available. You can also share a new thought on this topic. Topics that are shared more than once have a stronger chance of standing out to exchange leaders.
Still have questions?
Check out the ThoughtExchange FAQs for more information. If you'd like to contact the District directly about Listen Learn Return, you can email justask@d303.org or submit a question or comment anonymously through this form.
Meeting Structure
Our in-person sessions have been led by Superintendent Dr. Paul Gordon and Chief Communications Officer Scott Harvey. During the initial round of meetings, participants were invited to share their feedback on the District's challenges, opportunities for growth and successes. Guests also had the opportunity to share feedback anonymously and through small and large group discussion.
The diversity of individuals represented in these groups, the timing of these discussions and location of the meetings is key in obtaining strong participation and obtaining quality data. The District aims to conduct multiple rounds of meetings in person and electronically for each of the following date ranges throughout the 2022-2023 school year.
Summer/Fall
Winter/Spring
Late Spring
Meeting Norms
We aimed to create an environment during our in-person sessions in which all participants felt welcome to express their opinions about the District and engage with fellow guests in a respectful manner. We asked our guests to observe the following practices during these sessions:
Be fully present and prepared to engage in dialogue
Monitor the personal space of others
Support respectful discourse through active listening and yield time for different perspectives and solutions
Seek to understand and not criticize. Assume positive intent
Be a problem solver and come from a place of inquiry
Keep at the forefront of our interactions the children, community and staff we are working to support
Our electronic surveys through ThoughtExchange align with our in-person sessions by encouraging honest feedback on our District that is anonymous while allowing participants to learn about others' perspectives. Exchanges are moderated and some thoughts may be removed if they are deemed rude, hurtful, or identifying.
Listen Learn Return
Listen
The initial round of meetings will be primarily focused on listening to fully understand our community members' perspectives of the district. It is imperative that guests feel their voices are heard and their feedback will be valuable in driving planning and decision making.
Learn
Learning outcomes will be determined by participant feedback gathered in person and, when applicable, combined with other feedback received outside of these meetings. Feedback will be shared with and reviewed by District staff and the Board to determine action plans for follow up meetings. The information gathered will create new learning outcomes and supplement existing strategic planning efforts.

Return
Follow up meetings with participants will be a key emphasis throughout this process, during which we'll share the action steps taken and progress being made based on initial feedback. By staying engaged with our community, we aim to strengthen relationships, access and accountability.
As data is gathered from Listen Learn Return, the Superintendent may form an advisory committee to review feedback and collaborate on next steps. The Superintendent may appoint members of the Board, District staff, students and community members to serve on advisory committees, who collaborate to examine the impact of various feedback. Committee outcomes would be communicated with the Board and through other District platforms.