Haga clic aquí para ver la información en español
Overview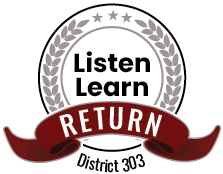 It is important that District 303, led by new Superintendent Dr. Paul Gordon, is routinely connecting with staff, students, parents and community members. Listen Learn Return provides opportunities to share feedback that informs District decision making and strengthens community relations. We aim to establish a foundation of trust, access, and accountability to the colleagues, students, families, and community members we serve.

Meeting Times and Locations
(Room locations and new dates will be updated when available)

Community sessions have concluded for the fall 2022 round. Check back later for updated information on new sessions.
Meeting Structure
Sessions will be led by Superintendent Dr. Paul Gordon and Chief Communications Officer Scott Harvey. During the initial round of meetings, you'll be invited to share feedback on the District's challenges, opportunities for growth and successes. Guests will have the opportunity to share feedback anonymously and through small and large group discussion.
The diversity of individuals represented in these groups, the timing of these discussions and location of the meetings is key in obtaining strong participation and obtaining quality data. The District aims to conduct multiple rounds of meetings for each of the following date ranges throughout the 2022-2023 school year.
Summer/Fall
Winter/Spring
Late Spring
Meeting Norms
All meeting participants should feel welcome to express their opinions about the District and engage with fellow guests in a respectful manner. We ask our guests to observe the following practices during these sessions:
Listen Learn Return
Listen
The initial round of meetings will be primarily focused on listening to fully understand our community members' perspectives of the district. It is imperative that guests feel their voices are heard and their feedback will be valuable in driving planning and decision making.
Learn
Learning outcomes will be determined by participant feedback gathered in person and, when applicable, combined with other feedback received outside of these meetings. Feedback will be shared with and reviewed by District staff and the Board to determine action plans for follow up meetings. The information gathered will create new learning outcomes and supplement existing strategic planning efforts.

Return
Follow up meetings with participants will be a key emphasis throughout this process, during which we'll share the action steps taken and progress being made based on initial feedback. By staying engaged with our community, we aim to strengthen relationships, access and accountability.
As data is gathered from Listen Learn Return, the Superintendent may form an advisory committee to review feedback and collaborate on next steps. The Superintendent may appoint members of the Board, District staff, students and community members to serve on advisory committees, who collaborate to examine the impact of various feedback. Committee outcomes would be communicated with the Board and through other District platforms.
Questions
For feedback on Listen Learn Return or questions on past or upcoming meetings, email JustAsk@d303.org.
Want to receive updates on Listen Learn Return? Enter your email: